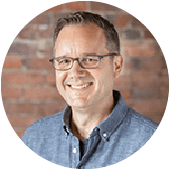 As a purpose-driven CEO, Robert Craven is well-known for building award-winning, high integrity products, brands and businesses and for being deeply focused on making a difference in the lives of other people. He served as the CEO of MegaFood from 2011 through 2018. During a period in which the company tripled its sales, Robert also earned a reputation as a master builder of exceptional corporate culture, leading MegaFood to B Corp status and to the 'Top 20 Best Companies to Work For in New Hampshire.' He was voted one of the 'Top Conscious Business Leaders' of 2018 by Conscious Company Media. In 2014, the Nutrition Business Journal awarded him its Business Achievement Award for Management after he successfully led MegaFood's sale to Pharmavite.
Prior to becoming CEO of MegaFood, Robert partnered with natural products industry pioneer Jethren Phillips, founder of Spectrum Organic Products, to successfully build a high-growth organic ingredients business. Earlier in his career, Robert was the CEO of whole food supplement company Garden of Life. During his tenure, Garden of Life was recognized with the Nutrition Business Journal's Gold Award for growth in mid-size companies for '03 and '04, and was #14 on the 2005 Inc. 500 list of Fastest Growing Private Companies. He has also worked for The Hackett Group, Boston Scientific and Procter & Gamble.
Robert is the CEO of Findaway Adventures; the company exists to improve the world by providing more opportunity for young, change-the-world companies and their founders. They bring money, strategy, and retail expertise to help accelerate young, impactful, consumer packaged goods companies. The company takes equity stakes in partner companies, helping them bridge the gap between friends & family money and next level capital.
You can follow Robert's journey as he blogs regularly on medium.com/@RobertUCraven and shares extensively on Twitter, @RobertUCraven.