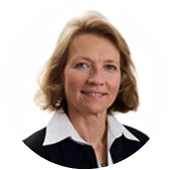 Pat Schneider is CEO of Biova (www.biova.com) , the leading ingredient supplier in the water-soluble eggshell membrane segment targeting the 4 key markets of Joint Health, Cosmetics, Inner Beauty and Pet Care. Pat is a General Management "C-suite" executive with solid P&L experience and expertise in turnarounds. She has a strong consumer health and wellness products background in leading existing business units, opening new markets and launching products globally for organizations including: P&G, J&J, Bristol-Myers Squibb, Bayer, Herbalife, Metagenics, Twinlab and Nelson Bach.
Prior to Biova, she was CEO of Healthy Bizz, a West-coast strategic consultancy focused on "Growing Healthy Profits for Healthy Products". Pat provided guidance to start-ups and established companies in the areas of business strategy, marketing, new product development, regulatory and operations for clients in the natural food and nutritional products market sectors.
Before Healthy Bizz, Pat was CEO of Nelson Bach USA, a UK-based homeopathic products company focused on natural healthcare products specializing in the area of emotional health. Pat was also COO of Twinlab, a diversified supplement company offering performance health and wellness products.  Previous to Twinlab, Pat was COO of Unigen, a botanically-based nutraceutical and cosmeceutical ingredient supplier to the joint health, pet care and cosmetic industries.
Pat serves as an advisor to the Nutrition Capital Network, an organization that connects investors with high-potential growth companies in the nutrition and wellness industry. She is also an advisor to NZTE, New Zealand Trade and Enterprise, an economic development and trade promotion agency that offers strategic advice to support the growth of New Zealand business overseas. Additionally, Pat writes for several nutritional journals and is a speaker at numerous health and wellness events.
Pat holds a BS in Microbiology, MBA in Finance & Marketing, JD in Commercial Law and is a licensed attorney in California and was actively practicing in the areas of Elder Law and Estate Planning.
Pat spends her time between New Zealand and the US can be reached at [email protected] or 310-779-6695 (US) or +64 21-97-6659 (NZ).