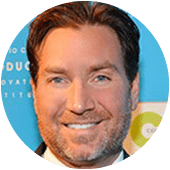 A natural products entrepreneur with 20 years in sales, marketing & operations in the health food, supplement and beverage industries, with diverse experience creating new products and brands.
In 2002, he co-founded Steaz, the first sparkling tea and USDA Organic and Fairtrade soft drink and energy drink brand in the US. As Co-Founder, Eric drove the company to leading positions today in these segments of the beverage category, all while establishing a triple bottom-line business philosophy founded on People, Planet & ethical Profitability. Today Steaz is the largest private Fair Trade tea brand in the US.
Eric is the recipient of the 2007 Sustainable Business of the Year Award, as well as 4 time annual winner of the BevNET.com "Best Product of the Year Award" and is a Top 50 Beverage World Magazine Disruptor for 2016.
Prior to Steaz, Eric was President of Long Life Tea, tripling their organic tea lines before sale to Kikkoman. He initially served as the National Brand Manager for Country Life Vitamins and was on the Exec Committee, co-directing 5 brands and over 1,000 SKUs globally. In early 2011, Eric Co-Founded I AM, a lifestyle brand of supplements and aromatherapy mists & launched new agency, MetaBrand, a brand creation, R&D model focused on taking innovative beverage products to market. MetaBrand Capital formed in 2014, and made its first investment into Runa, which Eric was instrumental in the brand's early creation.
Early 2016, Eric launched new Conscious Products incubator & accelerator, BeyondBrands, Co-Founded with wife, Eco-fashion pioneer, Marci Zaroff. The 15 partner national agency focuses a SuperTribe of 50+ industry experts on advising the next generation of natural products entrepreneur, and larger CPG, in need of developing better-for-you, products across Food, Beverage, Fashion, Beauty & Nutraceuticals.