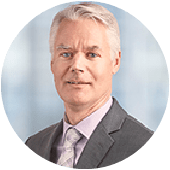 As lead for all NPC investment activity, David is responsible for the overall direction of the organization's portfolio and the management of the individual investments within it.
David works closely with the CEO and the Investment Sub Committee (ISC) of the NPC Board of Directors to lead the team in identifying high-potential opportunities in natural products. With over 20 years' experience in the innovation commercialization landscape, David is a great judge of the viability of a product or technology and its market potential. 
His in-depth understanding of the investment and corporate world, and exceptional attention to detail, make him a tremendous asset to both investors and entrepreneurs alike. He is a sought-after speaker at investor events and meetings, and has an extensive network of national and international corporations, investors, research institutes and innovation and economic development agencies.
David oversees all aspects of the NPC investment function with a strong analytical and practical approach. He is in charge of the creation and refinement of the investment assessment process, identification, development and due diligence of opportunities with the team, and management of terms, contracts and relationships with investment partners and entrepreneurs.
Armed with a PhD in plant biology, David has a wealth of business, finance, and technology transfer expertise developed through a diverse career in university research, technology commercialization and regulation, venture capital, entrepreneurship, federal government program management, not-for profit management and governance, economic development, and management consulting.
In each of his roles, he has been involved in the strategy, implementation, management, and measurement of innovation and commercialization, giving him unparalleled insights into the various programs, policies, and practices that can help companies evolve from start-ups to success.
He has served as Director of Business Development with Performance Plants Inc. and as Vice-President with Foragen Technologies Management Inc., which managed a national venture capital fund specialized in advanced agricultural technology investments. He was a Regional Director for the National Research Council of Canada's Industrial Research Assistance Program, and was the Chief Executive Officer of the Entrepreneurial Foundation of Saskatchewan. He has also operated a consulting company, advising entrepreneurs on corporate strategy and financing and assistance with various regulatory requirements.
David has served on a number of boards for both profit and not-for-profit organizations, including AgWest Bio Inc. and is former Chair of the Board of Directors of Genome Prairie. David was educated at Queen's University where he obtained BSc Honours (Biology), PhD (Biology), and MBA degrees.