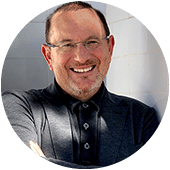 David is the CEO of iLevel Brands a national brokerage firm based out of Austin TX. Under his leadership, this innovative and high tech company is one of the fastest growing national brokers in the natural products industry.
He has over 20 years of startup and brand building experience including founding and successfully growing his own natural food company, Kalahari Limited. Though the Kalahari brand no longer exists, it is best known for bringing rooibos or the red tea to the US market in the early 2000's growing quickly from zero to 8,500 stores nationwide within 18 months. 
Post Kalahari, he represented/consulted with dozens of other emerging companies in the natural/organic food sector helping them to successfully navigate the obstacles within the natural channel.
Prior to founding iLevel Brands, he supplemented his extensive brand building experience by working for a regional brokerage company on the east coast as their Supermarket Business Manager pioneering their representation in the supermarket channel.  
David holds an M.S. degree in Industrial Engineering and a B.S. in Mechanical Engineering from Georgia Tech.